These summer-camp-inspired arts and crafts make staying indoors fun, and rainy afternoons pass by in a snap. They're all easy to DIT (that's Do It Together, the Camp Darcy motto), and would be great activities for playdates or birthday parties, too! Each one is made with items you're likely to have at home, so pick a project from friendship bracelets to paper boats to animal masks and get crafty!
Bead Crafts
What's the classic gift for your best friend (or all your buddies, classmates, cousins or family)? A friendship bracelet! They're fun to make, get, give, and wear. The same description applies to all the bead crafts below, which kids will want to make for all their besties—and to wear themselves, too.
Friendship bracelets: These best-friend favorites can say a lot in just a few letters. Spell names, words, or acronyms like BFF or LOL using simple alphabet beads, string and gold bead designs. You can even make several bracelets to write sentences that you can split up to wear separately or together. And you don't have to limit yourselves to string and letters; charms work too, strung on monofilament, cord, even gold chains, like in this set.
Jewelry Cards. Bracelets, necklaces, keychains—jewelry becomes extra-special gifts when presented on our illustrated cards and filled in with a name or message. These combine a card and gift into one, and you can use them as a place to store your bracelets when you're not wearing them. To download these card designs, click here. Or draw or design your own—you can even print a photo on cardstock and wrap the bracelet around it so it looks like the person in the picture is wearing a necklace.
Rainbow bracelets: Colorful beads and shoelaces are all you need to make rainbow bracelets in your BFF's favorite shades; each friend can wear a different color pattern.
Bracelet Bar
A bracelet bar will keep kids busy bracelets for hours! Place cords, shoelaces, yarn, string, or any other base on the table with beads separated by type and kids can design patterns or spell out their names in Morse code colors.
Friendship pins. All you need are safety pins and letter beads and you've got the making of quick, easy, and adorable gifts for a whole squad of BFFs. Slide on their initials or see who can make the most words out of three letters: I DO, LUV, FUN, YUM, WOW, MOM, DAD–the list goes on and on!
Cinch Pouches: Turn any sturdy fabric into a pouch to hold your new jewelry treasures with a screw punch, a cord, a safety pin, and some beads. For a how to, click here.
No-sting bracelets: A bead, some cord, and if you would like you (though you don't have to) can add a few drops of citronella essential oil will repel mosquitos and delight any friends you give them to. For a how-to, click here
Fabric Crafts
Hair Ties: Whether it's a simple sewing project (like scrunchies) or even a no-sew project (like these knotted versions) hair ties are fun favors, fundraising items or just a fun way to spend time crafting. My daughter Pippa made these as a non-edible item on a fundraising lemonade stand.
Fun with Felt: You can do so much with felt! Cut out shapes and letters and you can hot glue them onto felt to make scenes, onto safety pins for brooches, or thread them together to make a garland. (For more ideas, check out the sewing party in our Celebrate Everything book.)
Message Banner: Felt letters hot-glued to pennants spell out any message you like when strung together along with fun shapes. You can cut out the letters yourself or buy pre-cut ones or felt letter stickers.
Pom Pom necklace: String pom poms of any size together with a needle and thread and you've got a bold necklace to wear or give.
Tie-Dye: A classic favorite craft, tie-dye never gets old, and kids love doing it. My daughter Ella started a charity tie- dye business called Tie-Dye for a Good Cause—which means I have a new wardrobe of tie-dyed sweatpants, sweatshirts, and masks! It's easy to do whether you use fabric dye or make natural dyes out of turmeric, onion skins, beets, coffee, blackberry, hibiscus, spinach and more. For tie-dye supplies, see suggestions below, and for more tie-dye project ideas, click here.
1. Zip Pouches, 2. Gloves, 3. T-Shirts, 4. Scrunchies, 5. Rubber Bands, 6. Handkerchief 7. Tie Dye Kit
Coloring Crafts
All you need for a crafternoon is a set of markers and something to use them on (fabric, paper, cardboard, anything but the walls or floors!). Give the kids the tools and maybe a few prompts (draw something we saw on our walk today, draw the way your friend makes you feel) and the little artists are off and running! Consider coloring:
—A tote bag, t-shirt, socks—any white clothing is a blank canvas for fabric markers or Sharpies.
—Coloring Cases—Break open the sharpies, hand kids canvas pouches and let them decorate their own—then they can keep the new markers inside, too.
—Coloring books—they come in all levels from toddler to adult—or coloring pages like the rainbow above
—Rocks! You can use chalk markers or Sharpies. For ideas, click here.
—Sketchbooks—Get a blank journal and add a drawing every day as a visual diary.
Paper Projects
Some see a piece of paper. You see a boat, airplane, game—and a whole afternoon of fun to be had with any one of these projects.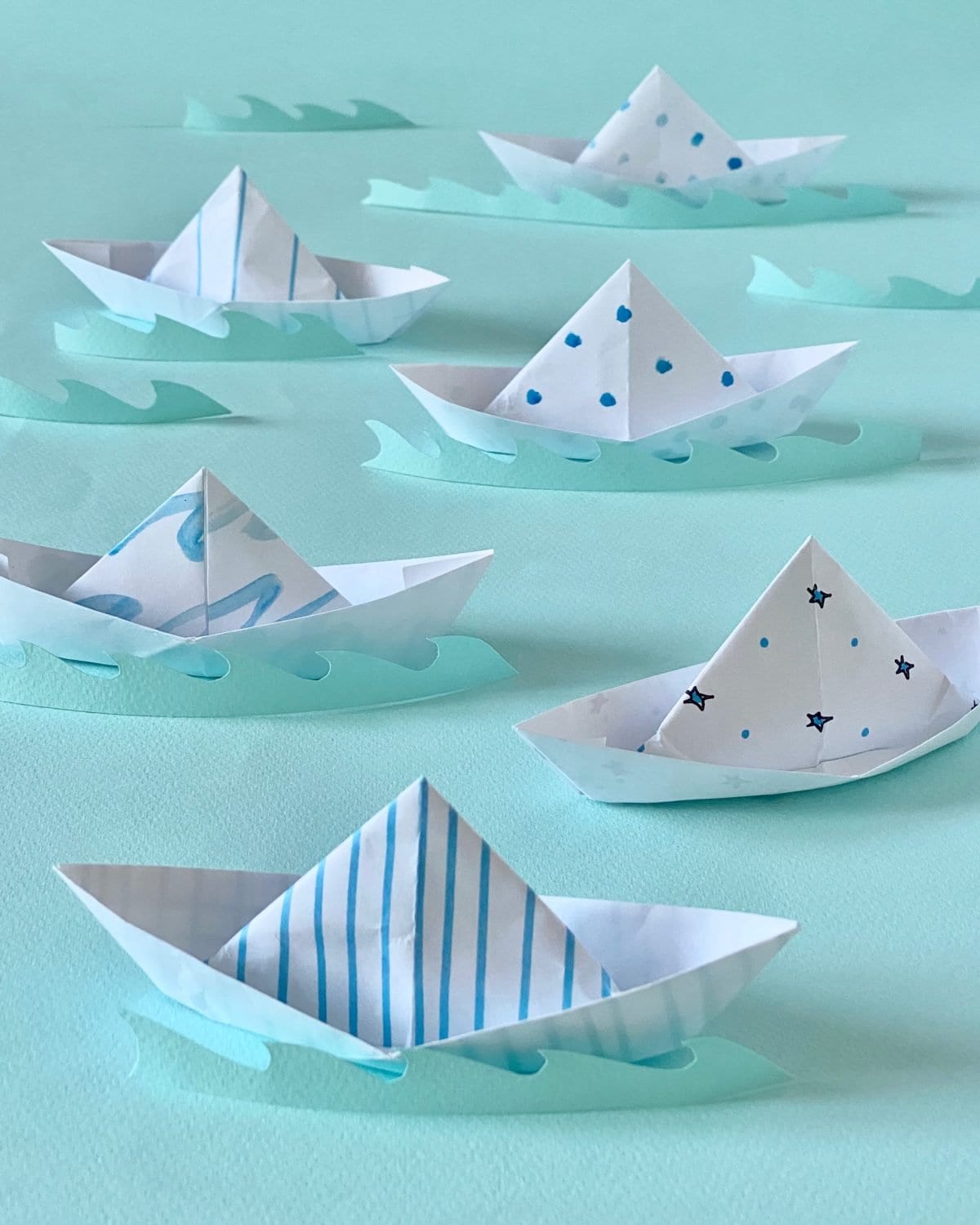 —Paper boats—Turn a sheet of typing or colored paper (or download and print out one of these patterns) into a see-worthy craft that kids can race across a pond, pool, or bathtub, or use to set notes sailing to each other. For a how-to, click here.
—Paper airplanes—A simple fold or a souped-up version, kids can fly high folding and decorating these jets, then seeing who can fly theirs the highest or farthest.
—Paper Crowns—Download template—or just cut a crown out of a paper bag. Add paper gems, or glue and glitter plus any other extras like pom poms, tissue paper or stickers. Kids can make their own crowns to use as costumes, wear on birthdays or use to make any day special.
—Paper Tiaras—For dress-up or Princess Parties, download our tiara template and color it in the colors of the kingdom.
—Cootie Catchers—The classic kids' game can be designed with any fortunes and images you like, or download and cut out our Happy Birthday version to celebrate someone's special day.
Game Crafts
What's more fun than playing games? Customizing the objects you're playing with!
Fruit Frisbees: A few swipes of paint (or Sharpie ink) turn frisbees into fruit slices.
Fancy Frisbees: Use multi-surface acrylic paint, a paint pen, or a Sharpie to transform your frisbee into a summertime treat–watermelon, lemon, orange, kiwi, take your pick! Paint, then play! For a how-to, click here.
Taped Hula Hoops: Wrap colorful tape (washi, electrical, any colored tape will do!) around a regular hula hoop to honor school colors, fit in with party decor, recognize whose hoop is whose, or just make playtime prettier! For a how-to, click here.
Hula Hoop Games: Once you've got your hoop ready, you're set for
—Hula Hoop Contests: See who can spin the longest.
—Hoop Dreams: Hang a hoop from a tree, float it in the pool or have two people hold it, then use it as a target to throw balls or water balloons through.
—Rolling Races: See who wins a race while rolling the hoop on the ground in front of them
—Jump Hoop: Use a hoop instead of a jump rope
Rainbow Hopscotch: Whether you make it out of chalk on the driveway or tape colored paper in different hues in a hopscotch pattern down the hall, hopscotch is even more fun when you're hopping toward the end of the rainbow.
Colored Pencils 2. Origami Paper 3. Book 4. Pipe cleaners 5. Bead Kit 6. Neon Tape 7. Crayons 8. Skintone Crayons 9. Pom poms 10. Frisbee 11. Playhouse 12. Embroidery Floss 13. Embroidery Kit 14. Drawing Kit