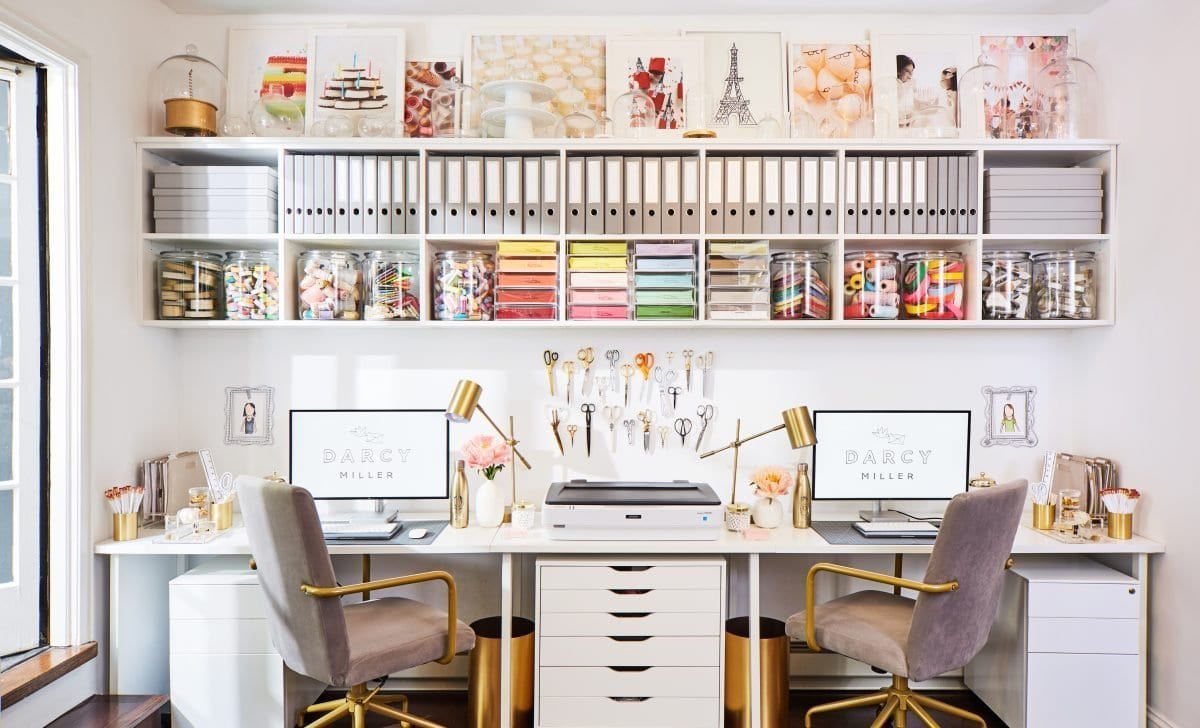 This is Darcy Miller Designs command central—everything an office needs in one spot. It's a workspace, storage space, gallery, and tech corner all at the same time. Our California Closets shelving not only keeps it organized, but it looks great, too:
–A desktop made up of one long surface, to maximize space (and table legs!) for storage underneath.
–Two workspaces on either side of our Epson scanner (we scan a lot of art!)
–Tons of accessible tools, supplies, and storage
–A portfolio of our work up top
When you're in a small space like we are, every storage product and tool needs to work extra hard. Here's how we multitask:
–Our drawers are on casters so the unit can roll out and serve as a surface for photo shoots.
–The desk blotter is also a cutting mat (with handy measuring marks on it, too).
–The Russel + Hazel clear file folders, which keep everything organized, are portable for when we need to move around for a meeting!
–The big Dell screens you see are monitors only, so DMD team members can move freely and hook up their laptops anywhere—rolling chairs help with that, too!
Shop our workspace essentials below!

1. Desktop Computer, 2. Darcy Miller x Chasing Paper Frames, 3. Office Chair, 4. File Box, 5. Brass Trash Can