After years of working out of my home craft room, I'm thrilled to be able to finally say: "Welcome to the Darcy Miller Designs Studio!" Here it is, the first look at the new space!
The studio is where all the creating, crafting, and celebrating happens—or at least where it all begins. From floor to ceiling, wall to wall, the small space is filled with everything needed to create or entertain, plus surprises to make you smile. You'll find works-in-progress, past projects, my artwork and illustrations, photos of our work, and lots and lots of eye candy. (Plus plenty of real candy too!)
Scroll for a virtual tour!
P.S. Keep checking back for a more in-depth look at Darcy Miller Designs Studio—and to Shop the Stories
Our entertaining wall serves as cleverly designed storage for more than a few of our favorite things. The custom-built shelving from California Closets holds everything we need to create and entertain: cake stands, cloches, and, of course, many copies of Celebrate Everything!
Our mantel is already wide and open, so it makes swapping out items easy. The space above can be styled in different ways, which means we can change the look of the room to fit different occasions or projects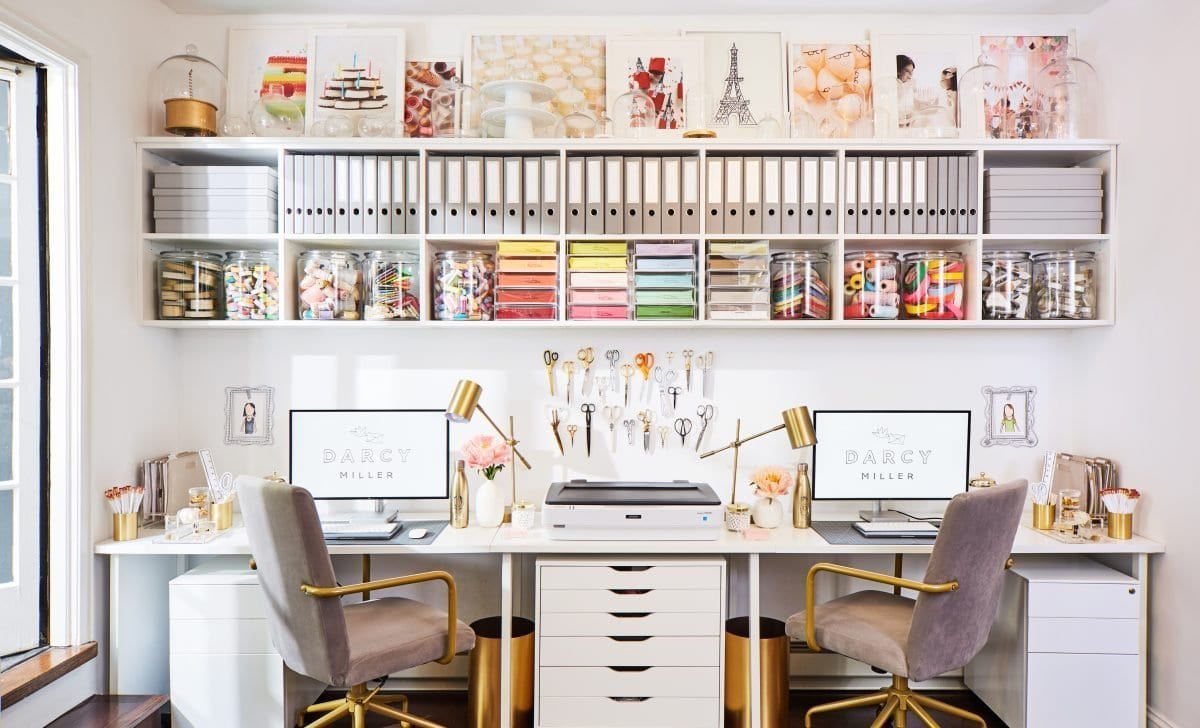 Opposite the entertaining wall, the desk wall multitasks as a workspace, display area, and storage for supplies and archives all at once. The California Closets built-in shelving holds jars of supplies, drawers of colored paper, and binders full of archived illustrations. Our scissor section keeps the tools front and center (mixed in with some of my drawings of scissors, too—can you spot them?).
Below, our Epson scanner is easy to access, which is key because we scan all day long. On either side of the scanner are two workstations, and above each desk is a signature Darcy Miller x Chasing Paper custom frame decal which holds an illustrated portrait of the person who sits there. It's our personalized version of the usual name plate!
And, because every inch of space matters, we store cake stands and cloches above the shelving, alongside images of some of my favorite work from over the years.

Windowed doors bring in light. It's nice to be able to see trees right outside your office, even in the middle of New York City! The New York City View decal from our Darcy Miller x Chasing Paper collection placed on the wall in between them gives us a view of the Empire State Building.
We use the conference area at DMD for a lot more than conferences! The large table is a craft table, dining table, and photo shoot surface all in one. It's a place to spread out to brainstorm and have meetings or even parties. The cabinet opposite it serves as a buffet, and opens up to act as storage too, once again making the most of every inch of space.
Darcy's Office



My own workspace is filled with personal details—as everyone's desk should be! I created this custom wallpaper for the Darcy Miller x Chasing Paper collection specifically to put here. It's my idea of the perfect background for a workspace: neutral gray printed with designs that bring in a touch of whimsy. I love to surrounded myself with inspiration, like photos, my kids' artwork, and some of my favorite things. And the packed-full desktop keeps everything I like to work with close at hand.
A gallery wall is my favorite way to incorporate a lifetime of memories into one small space. I've filled my home with them, and now I've brought one into my office, too! Family photos sit on the wall, alongside some of my own watercolors, art my kids made over the years, and small keepsakes from years of collecting. To make everything look cohesive, they're displayed in a mix of white and metallic frames from Framebridge. (We added in some illustrated frames for fun, too!)
Design Office Gallery Wall
It's always time to celebrate at Darcy Miller Designs! In the design office, we have a party gallery wall of past celebrations, which also serves as inspiration for future good times. My favorite part? Our custom frame decals from our Darcy Miller x Chasing Paper collection. They're an easy, fun way to get your photos on the wall.
Our "Celebrate O'Clock," an actual, functional clock we made by adding hands to one of my drawings, sits in the center. Each hour corresponds to a party detail, from cake to champagne! With a party clock on the wall, there's always time for fun!
How lucky are we that beyond our office walls there's outdoor entertaining space? The lights are always hung, the tunes are always "playing" on my illustrated boombox, and the champagne is always chilling!
Our terrace is the perfect spot for an al fresco business lunch, after-work drinks to toast our next big idea, a full party, or just a nice place to sit and work in the fresh air.
Before and After Pictures

Everyone loves a makeover…so here's what the space looked like before we made it our Darcy Miller Designs home!
And, it goes without saying that I couldn't have done this without my amazing Darcy Miller Designs team; all of the helping hands who jumped on board; and Stefan Steil of Steilish Interiors & Architecture.
Keep checking back for a more in-depth look at Darcy Miller Designs Studio—and to Shop the Stories