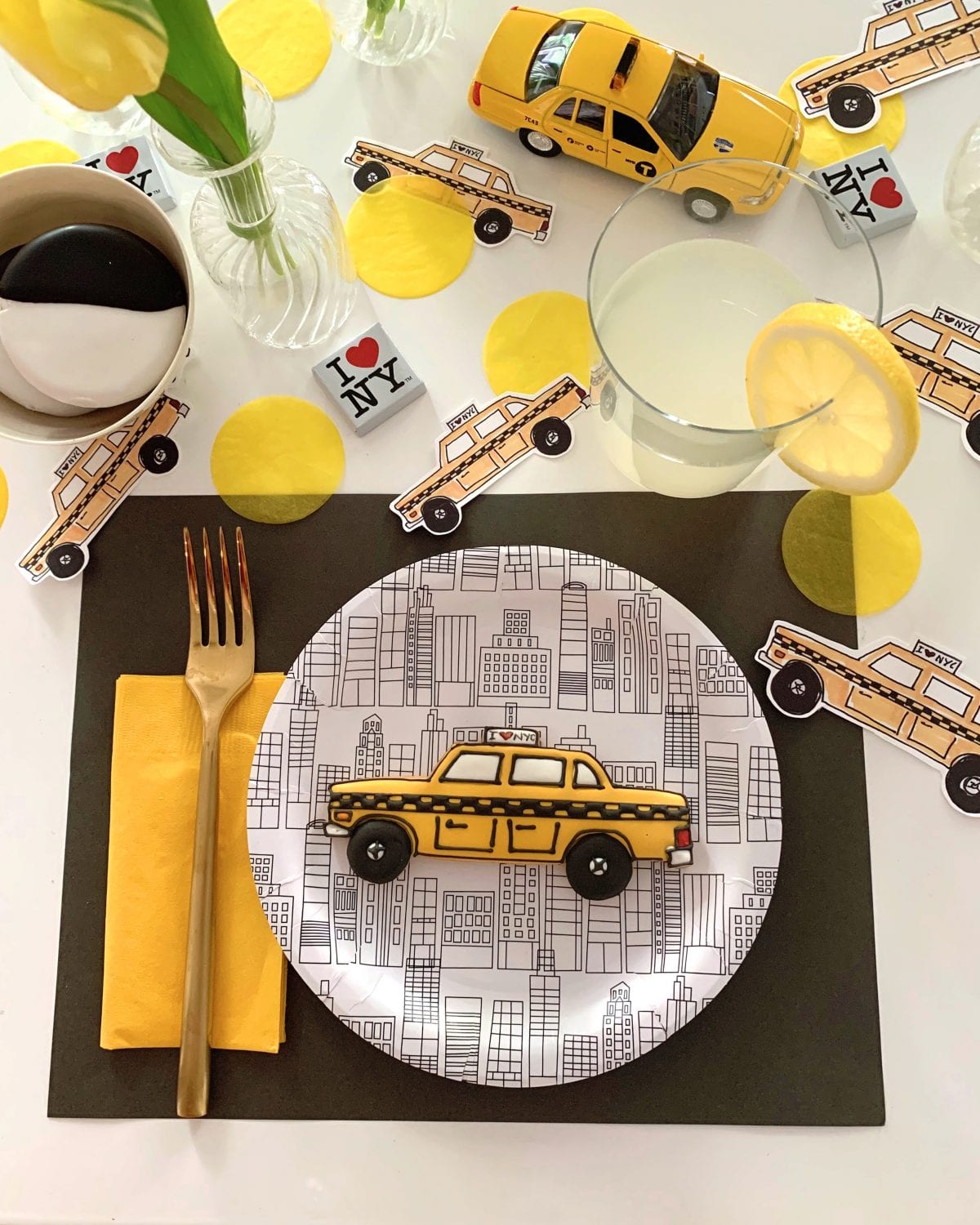 Location, location, location! A favorite place is a great theme for a party, whether it's their dream place on someone's birthday, where the engaged couple met, or where your crew lives. We made New York City the theme for a recent going-away party for friends who were leaving the city.
Here's how to create a sense of place:
-Inspiration: Pick a locale. Here, that was NYC.
-Color Palette: Choose a color scheme inspired by that place: black and white skyscraper plates, taxicab yellow flowers and balloons.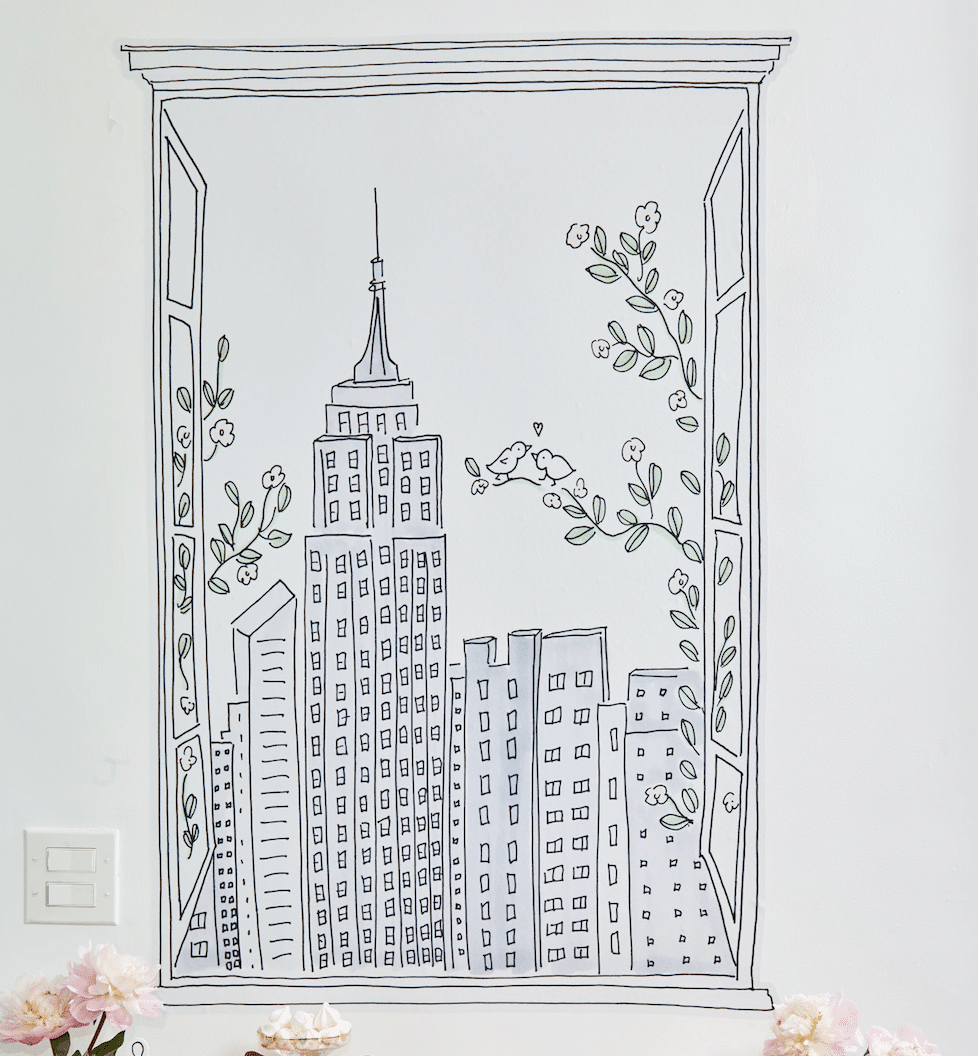 -Decor: Select some city symbols to highlight. Here, that's skyscrapers, taxis, and the I <3 NY logo. You could even use our Darcy Miller x Chasing Paper NYC View wall decal for an extra touch of the Big Apple
-Music: Program a playlist. We had SO many NYC songs to choose from from Frank Sinatra's "New York" to Jay Z and Alicia Keyes's "New York," but we also could have made it even more specific—all Broadway showtunes, say!
-Games: Choose your favorites and customize them! Think charades with movies set in the city, celebrity with local bold-faced names, or a matching game with city icons.
-Food: Whether it's the main event or dessert, choose treats the city is known for (hot dogs, pretzels, and black-and-white cookies for New York), or sweets shaped like city symbols (like our taxi cookies and cake pops).
We made a custom New York City memory game for the party, with my artwork of taxi cabs on one side and the names of iconic NYC symbols on the back. Click here to print out your own version!
City Symbol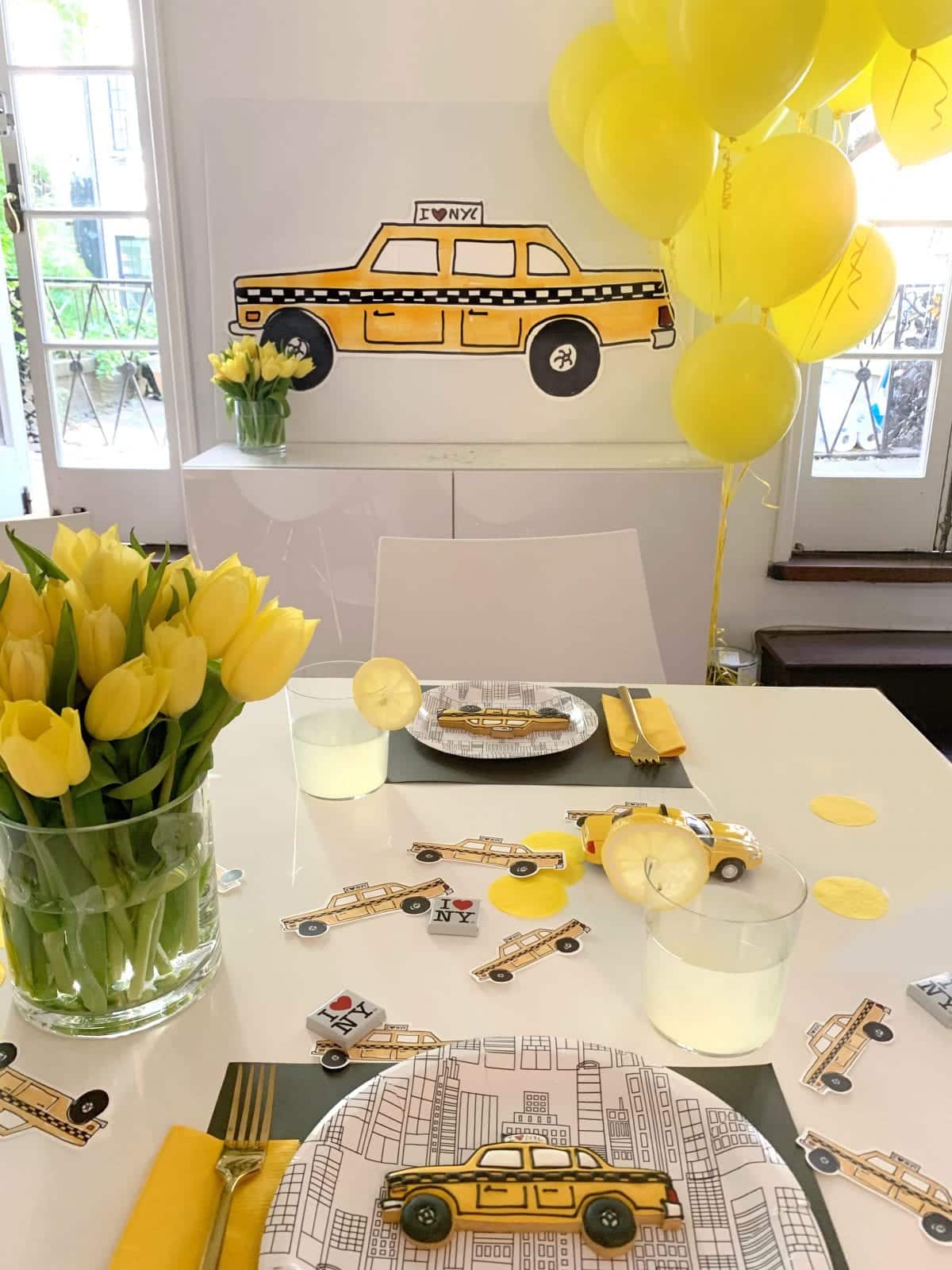 One of our favorite city symbols—the taxi!—zoomed into our decor in a big way. Look closely and you'll spot a fleet of yellow cabs here:
–Scattered across the table in on-palette confetti
–In cookies placed on top of the skyline-printed paper plates
–Toy taxis as part of the tabletop decor
–In the black-and yellow color scheme of each placesetting, inspired by a taxi's colors. We used a sheet of black construction paper as a placemat, accented with yellow paper napkins. Even the lemonade was in taxicab yellow.
Behind the taxicab-yellow balloons in a taxi poster that served as both decor and a guest book; to call your own cab poster, click here.

New York Treats from Dominique Ansel fit in with our I <3 NY theme and made up a big part of our dessert display. His limited-edition collection featured pastries in the shape of NYC favorites including
–Pizza
–Hot dogs
–Pretzels
–Bagels and cream cheese
–To-go coffee
When setting up our dessert display, we accessorized the treats with a few non-edible NYC signatures: the New York Times and a Metrocard for riding the subway!
I love cookies that are on theme! Here, Tiny Kitchen Treats took my illustration of vintage checker cabs and turned them into cookies that fit in with our "I <3 NY" vibe. We placed one on each plate as a welcome treat and a tasty favor.
At a party, cake pops multitask as dessert and decor. Display them in a vase as centerpiece, park them into a sweets table, or let guests hail one on their way out as a to-go treat. These Taxi cake pops by Rebecca's Cake Pops are undeniably cuter than Uber.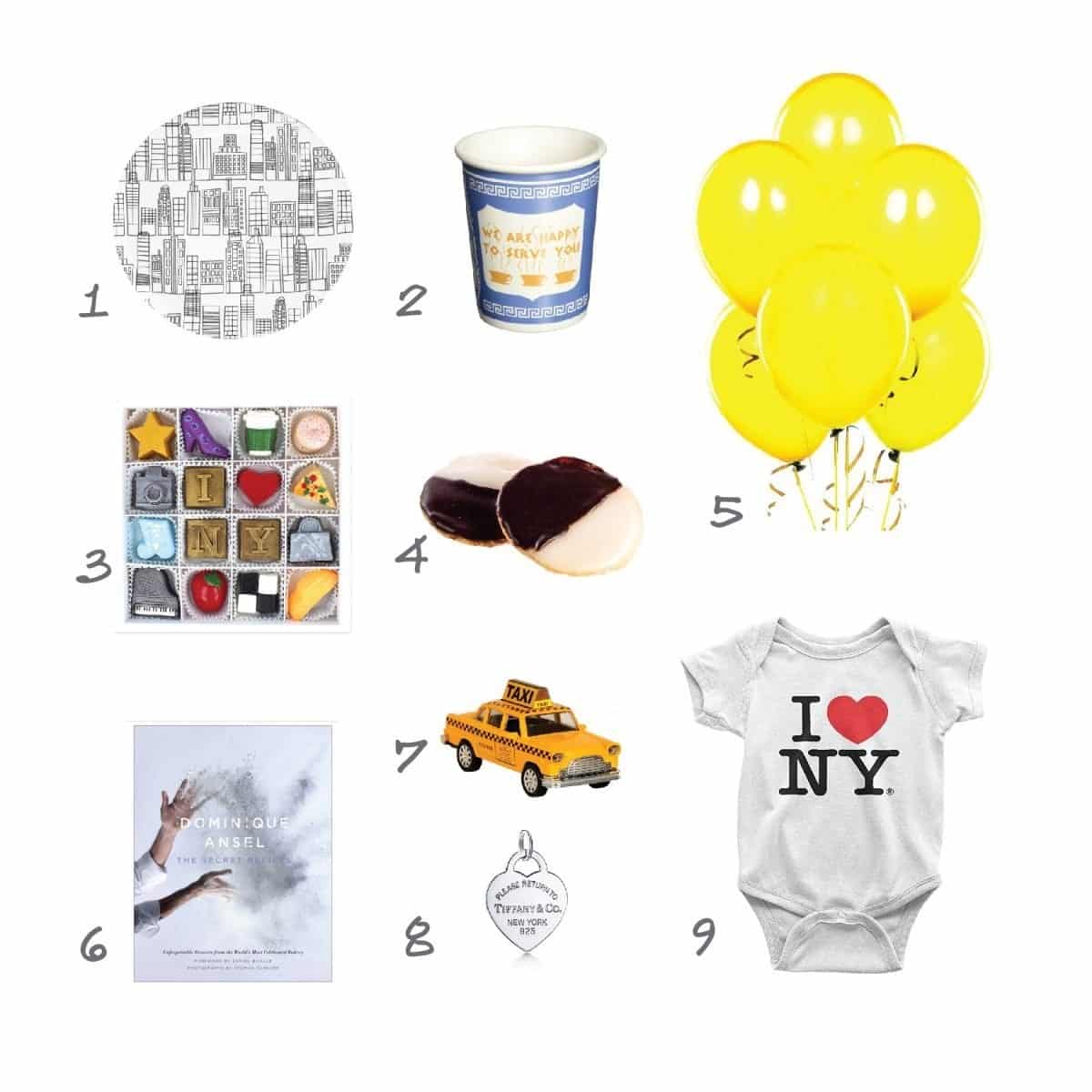 1. Plate, 2. Cup, 3. Chocolates, 4. Cookies, 5. Balloons, 6. Book, 7. Toy Car, 8. Charm, 9. Onesie