One of my favorite ways to bring my art to the walls of the new Studio was with our wall decals. Inspired by my motto, "Life is short…Celebrate Everything!," I wanted to create original artwork that highlights everything that makes each day worth celebrating, and use it in ways that make it easy to add fun and personality to a space. The result is the Darcy Miller x Chasing Paper Collection of wallpaper and decorative decals, which we use all over our new Studio, and if you want to bring it into your space, you can buy it right here. I hope this collection makes you smile, and inspires you to fill your home—and your friends' lives!—with little surprises, fun gifts, and a lot of celebrating.
Celebrate Everything Wallpaper
This wallpaper has an elegant gray background that's neutral enough to live with every day, but its pattern is full of little surprises, from lucky horseshoes to my signature bird carrying a flower. Try to spot something new every day! You might use it to
–Wallpaper an entire room
–Cover one accent wall, like the one behind your desk
–Line drawers or inside a bookcase/shelves so that the lucky ladybugs peek out
–Line the bottom of a tray
The gray color of my wallpaper is the perfect backdrop for all my metallic desk accessories.
When guests have a seat in my office, they notice something new every time the look at the wallpaper—which makes me think it would be fun in a foyer or waiting room, too.
If I could have an entire wall of windows, I would. Our New York City View Decal makes the Studio space feel like it has an extra window—one with Empire State Building views.
At a recent party we hosted at the Studio, our dessert table felt like patisserie in the sky so we stuck our New York City View Decal on the wall above it.
Our Crystal Chandelier Decal makes a party feel glamorous—and makes any room feel like a party.
Boutique Chandelier Decal
Overhead fixtures provide light in the Studio—but our Boutique Chandelier Decal adds style. (And "hanging" it up is as easy as sticking it to the wall.)
I have gallery walls all over my home, and, now, my office too. So when I started making decals, I knew I wanted frames in the mix. I'm so excited about them because they make creating gallery walls so much easier they're so easy to apply, you can swap out whatever is inside with a new piece of tape, and no nails or thumbtacks are required. You can use a single one, make a row out of them, or create a larger grouping. These are two separate decal sets. Choose Frame Set 1 or Frame Set 2 (or both!) and get decorating.
There are so many fun ways to use them…
In a Kid's Room
They're simple to hang and switch up, so kids can redecorate any time they want. Items they may want to hang inside their Frame Decals include:
–Photos, of course!
–Original artwork—like Picasso said, every child is an artist!
–Prize ribbons, certificates, awards, diplomas
–Mottos, sayings, notes, souvenirs
–3-D mementos like party hats or programs
In a Nursery
As a mother of three, I'm here to tell you—it's the personal details that turn a room into a nursery. Since it's so simple to swap out what's inside a Frame Decal, your display can grow along with your little one. Consider:
–Sonograms
–Birth announcements
–Cards
–Baby footprints
–Booties, hats, bibs—it's all so tiny and cute!
–The ID bracelet from the hospital
–A drawing from an older sibling
–A favorite toy. (If hanging something bulky, you will want to reinforce it.)
–Photos, photos, photos!
In a Bedroom or Living Room
Add your personality to your space. In your Frame Decals, consider "framing":
–Concert tickets or save-the-dates—of events you are excited to go to, or those you remember fondly.
–Photos, postcards, and sayings that inspire you.
–Decorative objects like this paper flower
–Anything you like using and looking at, like these pink headphones, or a set of keys by your door (Add a nail or hook.)
At Weddings and Celebrations
Parties are about celebrating people. Use these Frame Decals to make any event more personal
–Showcase family photos at a wedding
–Display photos throughout the years at a birthday, graduation, baby shower, or engagement party
–Make a "who's who" of attendees at a reunion, conference, or new students' gathering
The best part is that you can recreate the gallery at home after the party.

Don't Forget…You're Awesome Decals
Because we could all use a little reminder sometimes, you might use these Don't Forget…You're Awesome Decals
–On your mirror to as a little pep talk in the morning
–Above your desk at work for some extra motivation
–As a gift to surprise a friend or co-worker who needs to hear how awesome they are
Celebrate Everything Decals
These Decals remind us to celebrate the small stuff and the really big deals (ourselves!). Use them
–At a party to get people in the mood
–In your kitchen—so you remember to savor that really good cup of coffee you just made
–On top of a present to remind the recipient to keep that celebratory feeling going
Think Outside the Box Decal

Inspire creativity with this Decal which points out that there's always more than one way to solve a problem!
These Blank DIY Note Decals allow everyone to fill in with their mottos and reminders. We have these all over the place at the studio so we can jot down:
–Notes (from memos to love notes!)
–Your own personal motto
–Reminders
–Need-to-know information. Yes, that is our wifi password on the wall!
Sometimes we all need a little reminder in our busy lives, and that's where this three-pack of decals comes in.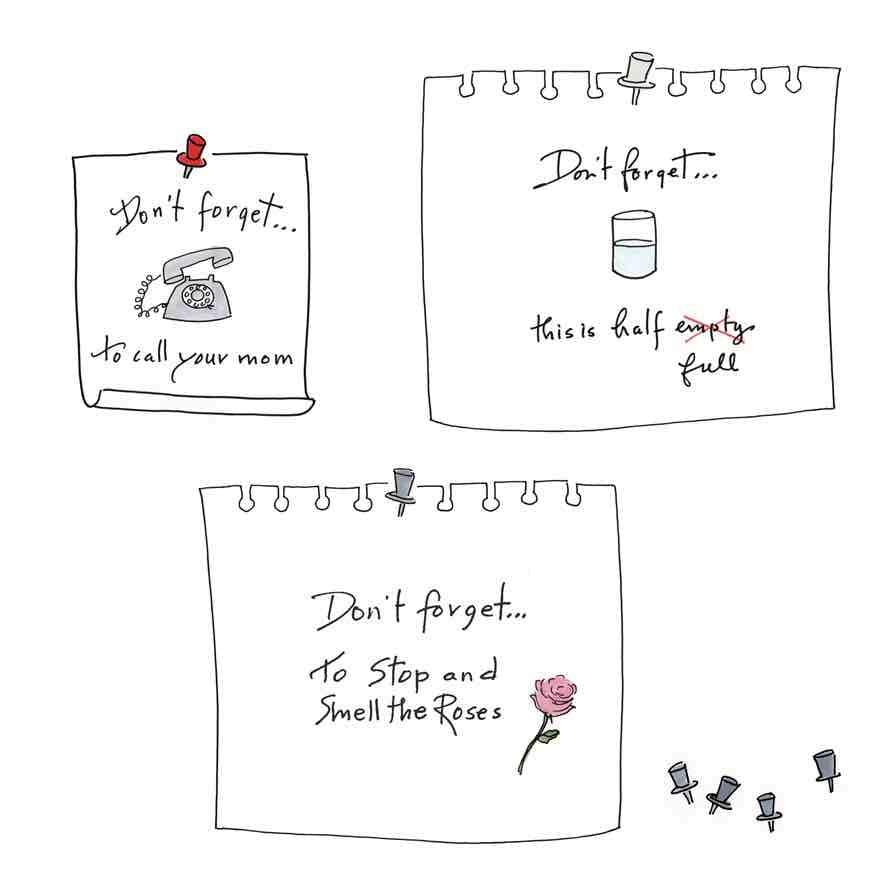 Give mom a call—you know she'd love to hear from you!

Stop and Smell the Roses Decal
Take a moment to reflect—even if it's just for long enough to read this message! Place this decal
–On your office wall to remind you to stop working every now and then
–Above your mantel—next to a display of fresh flowers
–On top of a bouquet or arrangement you're giving as a gift, so your friend can keep the sentiment long after the flowers have faded
There's more than one way to look at every situation. As a reminder to think positive, keep this Glass Half Full Decal above your desk, by the water cooler, or next to your kitchen sink.